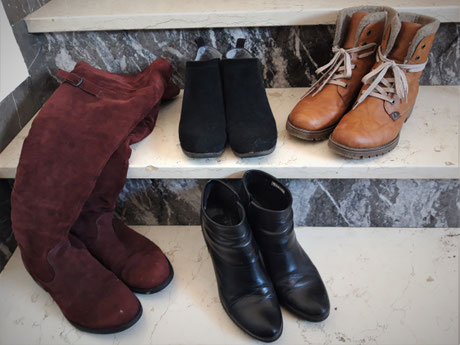 Despite owning 30+ pairs of shoes, each season I seem to rely mostly on a few pairs. For winter these are my thigh high suede boots (flat), my Chelsea-style ankle boots (1" heel), warm winter boots (flat) and for special occasions my heeled ankle boots. 
Fotos and Text by Daniela (AD: brand names mentioned; all items have been bought by me, names are only mentioned for information)
I live in a colder climate, which means that winter is indeed winter: snow and ice with temperatures falling to below zero on a regular basis. Style-wise that translates into a few pairs of solid winter boots and at least two warm coats.  I also rely on layering, wearing my favourite blouses and dresses underneath wooly cardigans.  My wooly jumpers are also on heavy rotation. So you might have guessed that my winter style leans towards warm and cozy and is far away from anything like sexy.  
For winter I sat down again to compile a list of clothes that I want to add to my wardrobe to make it a bit more stylish, especially since I'm back to working a few hours a week and need to look professional.
So, here is my wishlist for winter:
- a pair of classic trousers in navy or black
- a cashmere jumper in a bright colour
- black leggings
- a pair of boyfriend jeans
- a white men's shirt
- a number of layering tops and t-shirts ( I own precisely two: one short-sleeved one and one long-sleeved one)
And for once I got lucky immediately, as I found a cashmere jumper in pink and a navy pair of wide-legged, classic woolen trousers on Vestiaire Collective. I also managed to snag a pair of black leggings from a small, eco-conscious, German brand second-hand and a white men's shirt. So. my winter list is down to a number of layering T's and a pair of boyfriend jeans.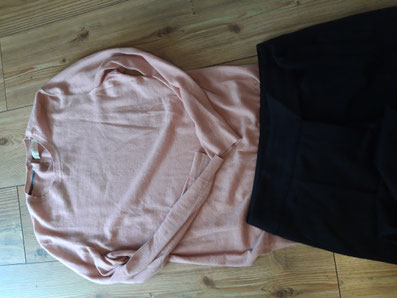 My first Vestiaire Collective purchases. I have never been able to resist a gorgeous cashmere jumper and the trousers have the sweetest tie detail at the waist.