Text and photos by Daniela (AD: brand name mentioned, but everything bought by myself, because I truly like it)
Spring has arrived (or at least I hope so) and that always means changing my wardrobe. I stash the out-of season pieces under my bad, so I only have season-appropriate clothes in my wardrobe.  And I also used the opportunity to take an honest look at my shape and put aside all clothes, that no longer fit me. Ok, I cheated a bit and stored my favourites in the hope that they'll fit again some time, but I also put up lots of clothes for sale.
So far, so good. But that left me with big holes in my wardrobe and since I am working (a few hours a week) again I have very few work appropriate clothes left. So I took out my planner and tried to write a list, like I did last year for autumn and winter, but somehow I didn't get very far.  And then I came across the Mood Capsule Curator (you can download it for free here: How to Build Your Capsule Wardrobe with Mood's Capsule Curator - Mood Sewciety (moodfabrics.com)).
I started from scratch by sketching some silhouettes I like, which are also appropriate for work. And then I brainstormed some clothes I already have, which fit the silhouettes. And then I wrote down all the sewing patterns I have, which fit the silhouettes and my sewing skills, so that I can close some of the gaps without having to shop. And I realized that I need a lot less than I thought.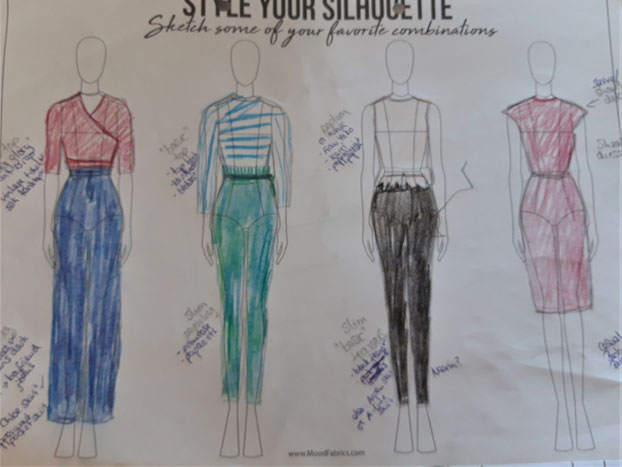 Here is a shot of my silhouette sketches
I also put down more casual options for each silhouette, so the wide-leg trousers on the very left could translate into boyfriend jeans with a nice T-Shirt, when I am at home with the kids. 
My aim is to have two options for the bottoms of each silhouette and each season and four tops for each season.  For example, the wide-leg option could be a classic pair of wool trousers and a woolen A-Line skirt for winter, and in cotton for summer. For a more casual vibe I would add a pair of boyfriend jeans here too. 
This has helped me immensely and makes getting dressed easier. How do you organize your wardrobe?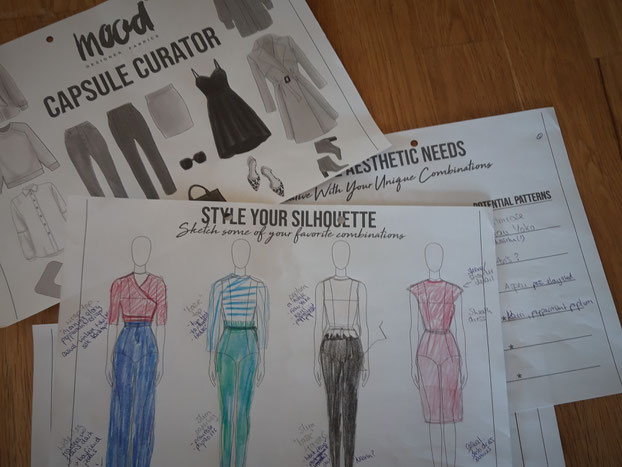 Here are some more pages of the planner.