By Daniela
For most people christmas is probably ALL about the presents. And though I personally think that's not the main part, I like finding and giving the perfect present. Sometimes that means having to make it myself. This year for example I'm sewing matching hoodies for my babies and I always make some truffles or chocolates for hubby (good lactose-free chocolates are hard to find). Here are some other ideas I like:
1. A cookie-Mixture in a large jar
this one is beautiful (but in German) 
https://www.klitzekleinesblog.de/cookies-im-glas-das-rezept-fuer-eine-keksbackmischung-zum-verschenken-inkl-geschenkanhaenger-zum-ausdrucken/
2. homemade granola (in a jar)
Melt about 100g of coconut oil and mix it with the same amount of rice syrup. Add two cups of oats and some puffed amaranth, add in spices- my favorites are cinnamon and cardamom- and a cup of nuts- I love almonds and walnuts. Mix everything well and bake it in the oven at 175 degrees for about 20 minutes. Let everything cool down and then add some chocolate chips. Fill it into the jar, add a homemade label and it's ready to go under the tree.
3. bath salts
here is some inspiration:  https://diyprojects.com/diy-bath-salt-recipe/

So, let me know how you get on and if you have some great ideas, tag me/us in your posts. #adventofcaring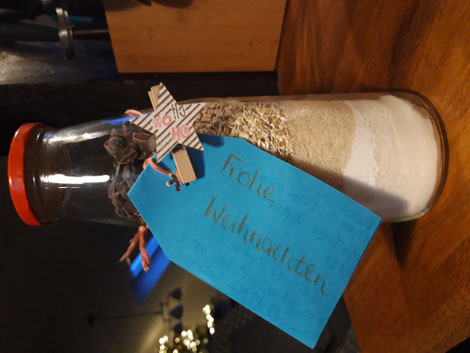 A cookie mix I made myself (with my kindergardener) to give to our lovely neighbours.