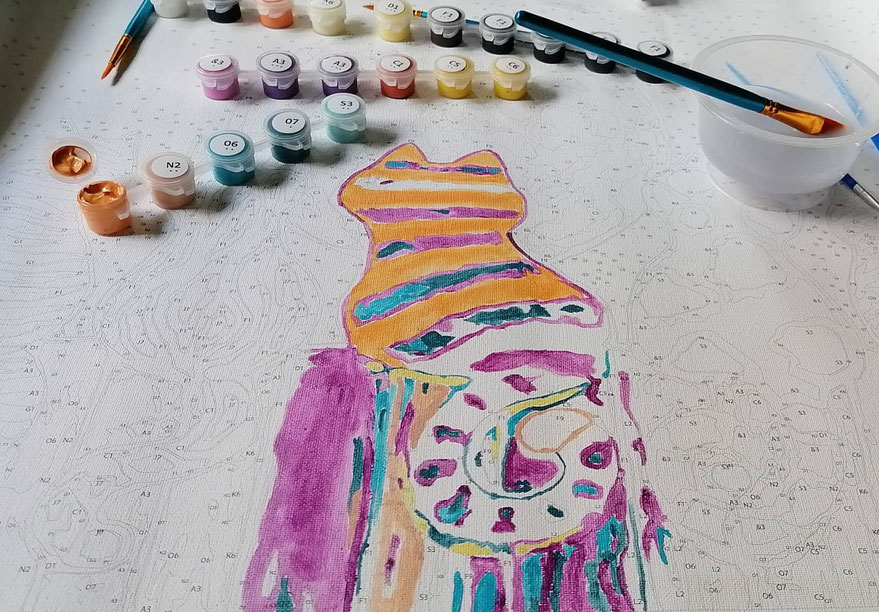 By Nektaria
2020 is definitely a very hard year for everyone. Greece is dealing with a new quarantine in the fight against Coronavirus that is controlling our lives. Being without a job and uncertain of the future, I wanted to find something creative to do.
Ever since I was a kid I wanted to learn how to paint but unfortunately, I didn't cultivate that dream, and to be honest, I wasn't very talented in that area. A while ago I saw this advertising about a hobby called "paint by numbers" which was known to me more as a phrase than an activity. I became a bit obsessive over it and even got a game on my cell phone in order to feel like I'm painting. That was until my sister decided to get me one for my birthday.
Let me start by saying that it was the most beautiful present I ever got. I started painting reluctantly because I never held a paintbrush ever again. The process is simple- the kit that I got besides the canvas with the drawing on it, had acrylic colors and brushes to use. On the canvas, there were shapes that each had a number on it that matched the numbers of each acrylic color. As I started putting the colors on the canvas, the shapes started taking life and I couldn't stop. I decided to paint for two hours per day so that I didn't finish too soon. Those two hours were the calmest during my day. I have trouble focusing even on writing, which is my most favorite thing in the world, but when I painted with numbers, my focus was there. It took me six days to finish my painting of five kitties looking at the moon. I cannot begin to describe my satisfaction even though the painting is far from perfect. But it is something I made with a little help from numbers and soon, I will buy some more to paint because it is one of the most fun, calming, and creative hobbies. And even though I don't know how to paint, I do feel like a painter!
So, if you want to try feeling a bit like a rising new Van Gogh, try painting by numbers. I'm sure that you will feel the satisfaction that I felt. Plus, it will help take your mind off the fear that this epidemic is causing because the health of the body and mind always comes first, and painting by numbers sure helps with the latter.