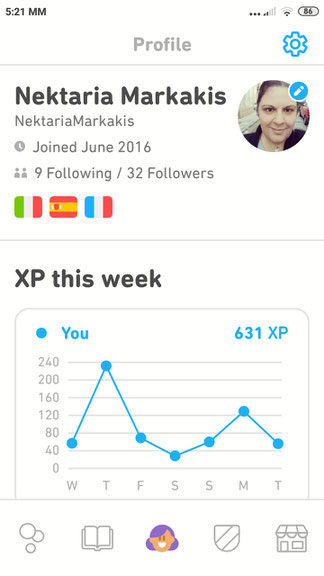 By Nektaria
( Ad, as app name mentioned)
Do you have free time?
Then instead of spending it on social media, in front of the TV or gaming… Learn a language.
15 minutes on Duolingo helps you learn a new language.
What can 15 minutes on social media do for you?
That's the question that the green owl of the famous language learning app asks every time it loads, when I want to do my daily language classes. And I must say I do agree with the green bird that pops up crying when you don't spend time on your courses. I mean, admit it, is there anything better than to learn how to speak your favorite language? I'll answer that for you. No, there isn't.
While on quarantine I decided to dive into to Spanish, which was my favorite language since I was a child. I tried learning Italian that I adore but Spanish was always on the back of my mind. And she ol' dear quarantine offered us so much free time, I thought to myself, why not try it. This time, take it a little bit more seriously. Let's face it, I want to travel to Spain one day, and my goal is to be able to speak with the Spaniards I meet. So, I began my lessons, slowly, although there were days that I couldn't put the phone down.
Although you might think that I'm advertising Duolingo, I am focusing on it because it's easy and fun to use. It offers lessons for more that 70 languages including High Valyrian which is a made up language, but who cares, right? Every lesson offers a tip, as a small grammar lesson to help you out, and is divided in 5 levels. What makes it unique is the amount of times that the same sentences and words are repeated. They do stick into your head eventually. It offers dialogues, too, so that you can hear the pronunciation (although in Spanish they use the latin pronunciation which kinda… sucks).
Although Duolingo is not an appropriate way to learn a language, it is a great tool to start with. I use it with a great grammar and videos from Youtube(Butterfly Spanish rocks) and you know what? I many not know perfect Spanish but I watch Spanish series with Spanish subtitles and I know what they are talking about.
It's been 134 days since I started learning y yo estoy muy contento con mi progreso y mi conocimiento. Pruébalo, te encantará tanto como yo!(I am very satisfied with my progress and my knowledge. Try it, you will love it as much as I do!)
So, do you have time? 'Cause 15 minutes a day can teach you a new language. Why don't you try it? I even use it while riding the Metro to work! It's free(although you can upgrade for more courses and grammar lessons)
PS: Just to be clear, this is not a Duolingo advertising. There are numerous apps out there that can help you learn a language,  just like this one!