by Daniela
Growing up I was never particularly athletic. I liked running around outside well enough and spent a lot of time climbing trees and playing catch with friends, but organized sports wasn't my cup of tea. In fact, I didn't do too well in school sports.
As a teenager I developed anorexia. I suffered from low self-esteem and thought that being really skinny might be a way of being noticed. Now, I don't want to big this up, I was very lucky in many ways and my anorexia thankfully never got really bad. I was very skinny, unhealthily underweight in fact, but it never got to the point of needing medical attention. Instead I decided to take a time-out. It was one of the best decisions I ever made, and it helped me get over the first bout of anorexia. I moved from Germany to Ireland and met some great people, many of whom I still call friends. Realizing I could do this and survive in another country on my own gave me a modest sense of self-worth. And as an Au-pair I was well looked after and well fed. And that led to my second bout of anorexia. When I moved into my first shared accomodation I was appaled at how much weight I'd put on, though honestly, I was just finally at a healthy weight, I stopped eating. I survived on coffee and cookies for days and would only eat when I met friends for lunch or dinner, to hide my issues. A co-worker kept asking me to come hiking with her, arguing that the modest exercise would do me good. And Ireland is spectacular! So I agreed and noticed that it did indeed do me the world of good. But I also knew, that hiking wasn't enough for me. I loved being outside and feeling the burn in my legs after a long uphill climb, but all of a sudden I wanted more. So I turned to the gym. Again, I got lucky, in that the trainer assigned to me, told me that I would need to look at my eating habits if I wanted to see good results at the gym. And for the first time in my life, I cooked good food for myself. It was so easy. I was looking after myself and discovered how much energy I actually had. But my love affair with the gym didn't last long. After a year- and a bad breakup- I'd had enough. My new eating habits stayed with me though, I'd begun to enjoy food. But the weight piled back on and I was beginning to look at food as good and bad again.
And then I met my now BFF. She used to be into cycling but had had to give it up when she moved to Ireland. We had the great idea to train for a triathlon, because thinking small just wasn't for us. We began by trying running. And I LOVED it. My friend stopped running after a while but I stayed with it. It was my alone-time, my clear-my-head-routine, exactly what I needed after a long day in college. I ran my first 10k at the Women's Mini Marathon and saw how supportive runners were. I'd found my tribe. Over the years I also finished a half-marathon and a number of other 10k runs. I trained at least 3 times a week and added weight training to my routine. People, complete strangers, were commenting on how athletic I looked. I was ecstatic. And then I met my now husband. I still went running but everything else went out the window. I never missed it. But then I became pregnant and couldn't run anymore. My hips were hurting even when I just went for walk and I was scared of damaging the baby as well. So I forced myself to take a running break and went for daily walks instead. My little bundle of joy is ten months old now and I went for my first run when she was four months. It had been over a year of not running. Just putting on my shoes felt amazing. And as I flew down my old route, my heart sang. I know now that it's not about how far or how fast I go. It's about running. It's good to be back.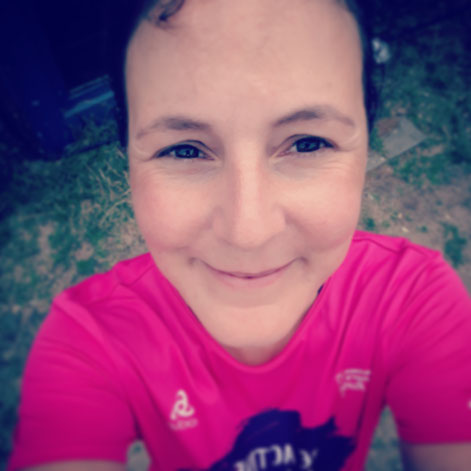 After a 5k run last summer.