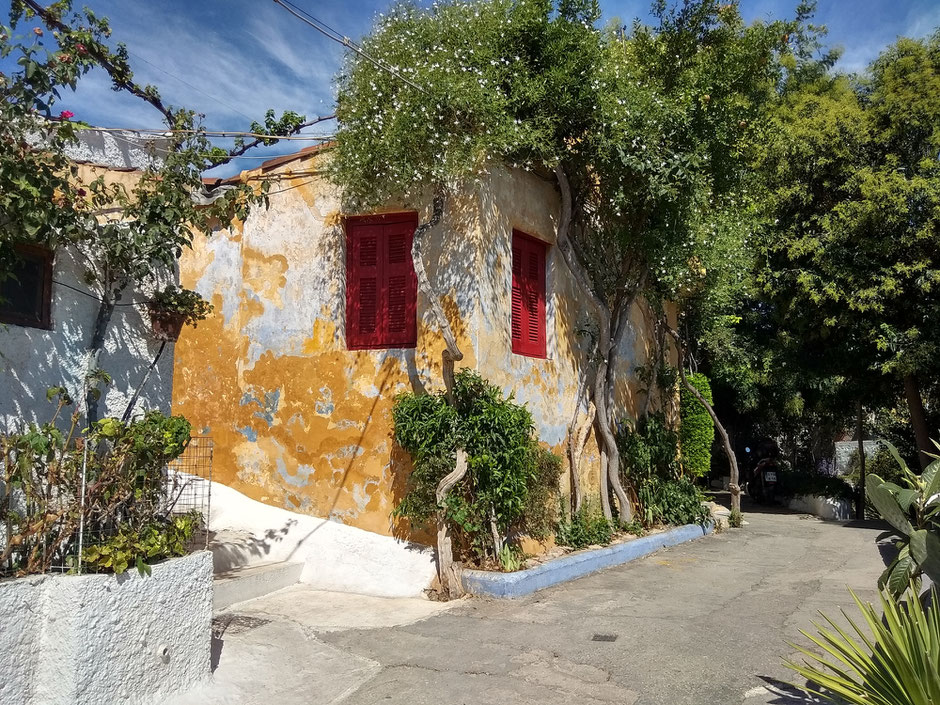 by Nektaria
 Life in the city isn't always a fairy tale. How can someone stand the daily routine, the gray, the noise and the pollution? That was what I was thinking for many years, while I was passionately avoiding to go around Athens. I have been living in a beautiful city just outside the center of Athens all my life and I'm sad to say that the only reason I went to the capital of Greece, was because I had to, as my work was there. That was until I had to take a walk around the city, to show it to some friends, who were visiting from another country.
Let me just tell you that Athens is a vibrant and gorgeous city that will easily win you over, if you give her a chance, like I did. From beer festivals to food festivals, from concerts in Syntagma square to outdoors cinematic experiences (as plenty of films have been shot in the city)-Athens has it all. Museums, wonderful cafes, bars, restaurants that serve absolutely wonderful food, taverns, souvlaki… you will find everything here and the prices are quite good, let me tell you.
But I'm here to talk about one particular place that might steal your heart, here in Athens. A small, free to visit paradise, right under Acropolis. It's called Anafiotika and it is a tiny area that includes a few houses that look nothing like the typical Athenian architecture. The story is pretty interesting. The beautiful district was built in the middle of the 19th century when builders from the island of Anafi had come to help build King Otto's palace. At first the people of Anafi had been given a part in Athens to build their houses, but instead they moved under the rock of Acropolis, defying the authorities. The district was built strictly following the architecture of Cyclades. But after 1950, due to archaeological excavations, 1/3 of the district was brought down leaving just a few houses standing. Now Anafiotika is considered to be a protected area. 65 people lived there in 2015, 4 of them were children.
The moment you step in Anafiotika, you get transported somewhere else and you forget instantly that you are in Athens. The scenery that reminds of an island, travels you through time. The pots filled with colorful flowers and the narrow paths between the houses are breathtaking and so is the amazing view to Athens. You can clearly see the Lycabetus hill and the area of Plaka, you can smell the fresh air and see part of the Acropolis rock. The paths there take you straightly to the beautiful area of Plaka where you can enjoy good food and coffee.
How to get there? That's very easy. Get off the Metro station in Acropoli and walk up Dionissiou Aeropagitou street, toward the museum of Acropolis. To your right (before you reach the museum) you will see the line of people waiting to get tickets. Walk up the street behind them, named Thrasyllou, until you see the district of Anafiotika in front of you (map included). Trust me, Anafiotika is a must see when you decide to visit Athens. The city has so many beautiful things to show, but this is definitely a view you don't want to miss.
Don't forget to visit Plaka on your venture to Anafiotika and also, visit the Acropolis, cause the view from there is simply worth every cent as it goes as far as the eye can see. You can take a peek of Piraeus from there! Walk around Monastiraki and Plaka. Athens has lots so show, many antiquities for which you don't have to pay to visit as they stand there in the open still in good shape, still breathtaking. Eat Greek food, it's tasty and worth it. Drink Greek beer, we have many brands like Alfa and Fix. Athens is offering a good experience to those who are willing to walk around and explore it. I know one thing for sure. I love becoming a tourist in my own city every summer because I get to discover its beauties. Why don't you join me?