With the nerd in me going strong, I love making detailed plans for our vegetable patch. It starts with me perusing the catalogues sent to us. I usually find a few gems I absolutely have to try. This time I also used the book "Alte Gemüse" (Traditional vegetables) as a source of inspiration.
The first part of the plan is the easiest. We simpy decide which vegetables to grow this coming year. If we're not going to eat it, or it's tough to grow, it has no place in our veggie garden. The we decide on the particular types. We tend to favour older and more flavoursome breeds over newer and hybrid ones. And lastly, we need our seeds in organic quality. Our list is quite long this year: pumpkins, zucchini, sweet potatoes, cabbages, beetroot, leeks, carrots, peppers and tomatoes. And- my new discoveries- misticanza (a salad) and Topinambur, which was grown in Europe before potatoes. I'm already excited about the harvest.  And, not to forget, our potatoes. We're trying "Bamberger Hörnchen" this year. They're small potatoes but meant to be very tasty.
My finished plan then looks something like this.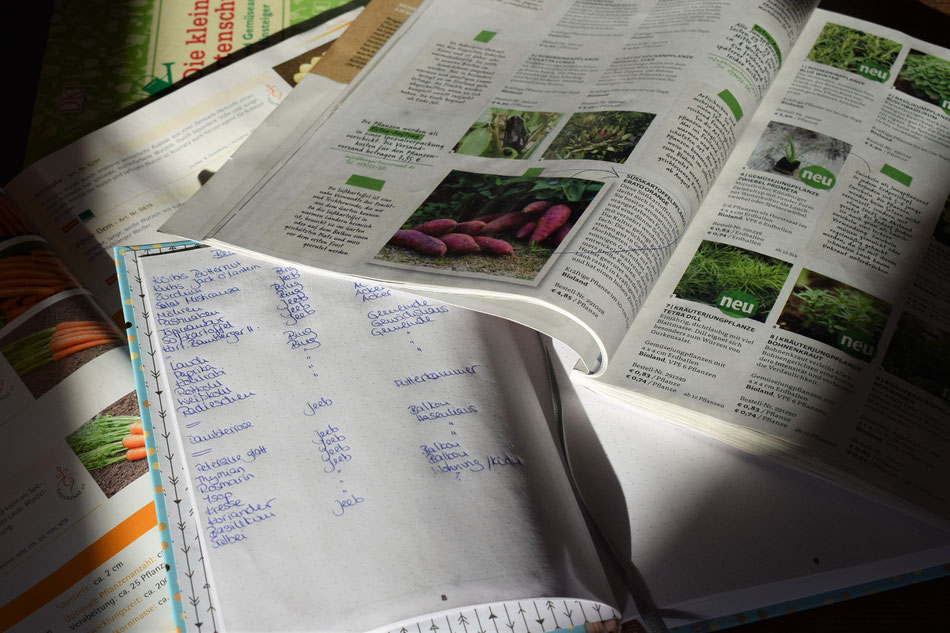 Natürlich hört es sich komplizierter an, als es ist, wenn man von einem Anbauplan spricht. Im Endeffekt entscheiden wir im Winter, was wir wo und wieviel davon anbauen werden. Für mich ist der beste Teil davon, in den Saatgut-Katalogen zu stöbern.  Oft finde ich dann das ein oder andere Schätzchen, das ich unbedingt ausprobieren möchte. Als besondere Inspiration diente mir dieses Mal auf das Buch "Alte Gemüse", da wir alte Sorten auch als Kulturgut ansehen und diese erhalten möchten.
Der erste Teil ist auch der einfachste. Wir entscheiden, was wir anbauen möchten, nach unserem Geschmack. Wenn wir es nicht essen wollen, brauchen wir es nicht im Garten oder auf dem Acker. Dann suchen wir die Sorten aus. Unser Fokus liegt auf alten Sorten, also verzichten wir (fast) komplett auf neuere oder Hybrid-Sorten. Und dann brauchen wir es natürlich noch in Bio-Qualität. Dieses Jahr ist unsere Liste recht lang: Kürbisse, Zucchini, Süßkartoffeln, Kohl, rote Beete, Lauch, Möhren, Paprika und Tomaten. Dazu viele neue Kräuter und meine zwei diesjährigen Schätzchen: Misticanza- ein Schnittsalat- und Topinambur. Ich freue mich jetzt schon auf die Ernte. Dazu kommen bei uns immer Kartoffeln. Dieses Jahr versuchen wir zusätzlich die Sorte Bamberger Hörnchen.
Ein fertiger Plan sieht dann in etwa so aus.