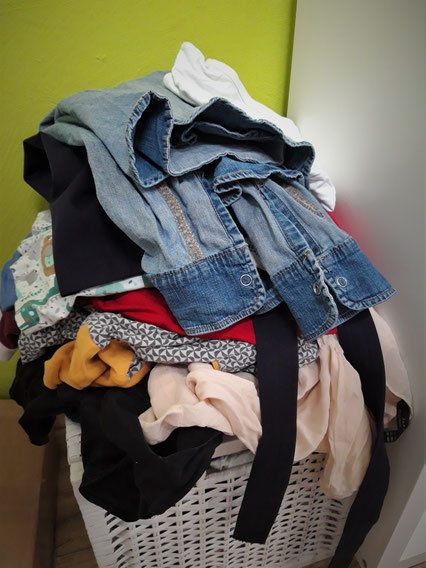 It might look like a laundry pile, but it's actually the clothes I want to mend but never seem to find the time.
Text and photo by Daniela
I adore sewing so much, that it is actually my "me time" every Sunday. But the other day my husband asked me to make some more T-Shirts for him (which I love doing, as sewing is my love language). I agreed and then, moments later, found myself in my office, where I sew too, looking at the pile above. And it occured to me that I might help him just as much by mending the two torn white T-Shirts rather than sew more (which I will also do ;) ).  There are so many clothes I can't bring myself to throw out, like my favourite silk top, the comfiest paperbag trousers, throw-on-anytime denim shirt and more. But they needed a little TLC, so I put them in the mending pile and they've been there ever since. 
So, I decided to take a break from sewing (except the easter presents for my babies) and spend the month of march mending the clothes in this basket. I'm excited to try visible mending techniques and finally get to wear my favourites again. I'll share some of the techniques once I can show you some pictures of the mending. 
Are you a mender too?