Text and photos by Daniela (AD: brand names mentioned; everything was bought by me and I am merely mentioning the patterns and fabric sources for information)
I realized that I have been writing about buying clothes and swapping quite a lot, but making my own clothes has actually had a much bigger impact on my wardrobe. I've previously written about how it has changed my view on clothes and sharpened my focus on quality. But most importantly, I have started having fun with clothes again.  So, without further ado, here are some of the pieces I've put on when they came off my sewing machine and have only taken them off to be washed ;):
A blue and white striped organic cotton top with slight batwing-sleeves.  (The pattern is called Kapstadt by Pech und Schwefel and the fabric is from EcoFashionFabrics).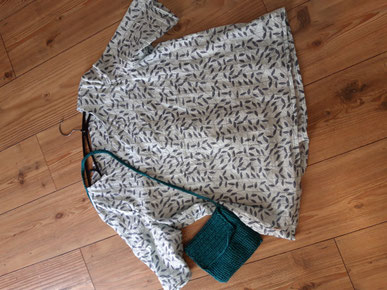 A bit of spring in the middle of winter :) This cotton tunic is super comfy and the bag was the first ever item I crocheted. The pattern of the tunic is called Frau Yoko by Studio Schnittreif and the fabric is a cotton dobby- I can't recall where I bought it though. The bag is a kit from Wool and the Gang "Paradise bag", which was a birthday present from my husband.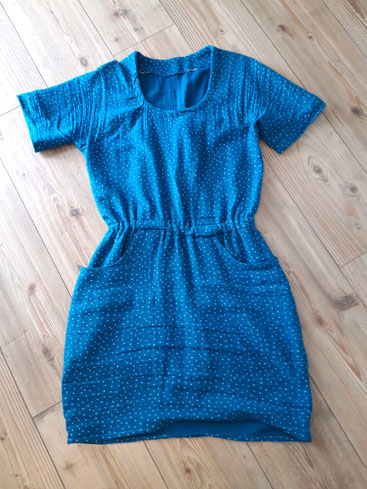 Yes, this is another item of summer clothing (technically) but it works well in winter with leggings and a cardigan. The pattern is one of my favourites (I made it out of a navy star-patterned jersey too) by Tilly and the buttons. It's called Bettine and the fabric is a teal organic cotton double gauze by EcoFashionFabrics.
Now, dear reader, can you guess my favourite colour? I promise, there are other colours in my wardrobe, but blue and teal have my heart. So, do you make your own clothes? Would you like to see some more sewing-related posts? Let me know.