By Daniela
I've only been sewing (again) for a year. But it has taught me so much about the construction of clothes. I've always been someone to check the fabric clothes are made of before I buy them. And when it comes to tricks and tipps on how to choose clothes, I always flip to the section on quality first. In fact, my husband has been joking that I (obsessively) research my clothes to the point where I'd be quicker just making them myself.  He's not wrong, but some things are better left to the experts.
So, without further ado, here's what I've learned about clothes and how to spot good ones:
1. Seams are key
It might come as no surprise, but if the seams are wonky (T-shirts are a prime example) the item is not worth buying. As a beginner sewist, I KNOW some of my seams aren't straight, but they are always sturdy (I know this as well from all the unpicking). So lay the shirt down flat in front of you and if the side seams are not straight, I won't buy it. Also, pull at the seams a bit and if they gape, put the item back. 
2. Construction
Seams are kind of part of construction but deserve special attention. Construction refers to the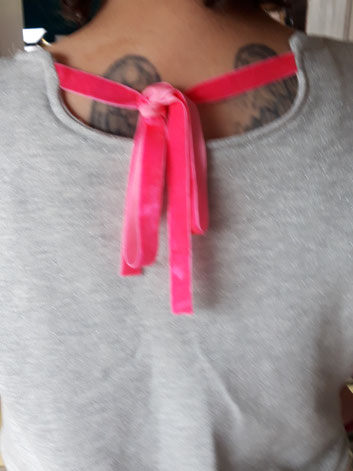 My Disco-Sweater... yes, I'm a child of the 80s. If you're interested, this is a Chestnut Sweater by cococwawa and the fabric and trimmings were bought at alles-fuer-selbermacher.de (Ad, brands mentioned, but everything bought with my own money).