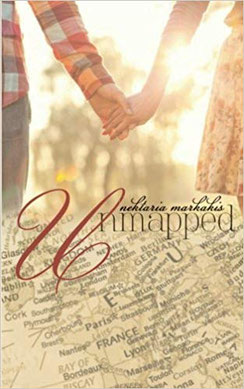 Nek's first novel
picture by Amazon
By Nektaria
I didn't chose to become a writer.
I guess you can say that writing chose me.
It all started as an experiment after spending countless hours reading books that made me travel through time, took me with them into great adventures and introduced me to great love stories. I read and I read until I thought that it'd be fun to try and create something myself. And I did. I bought a notebook, 100 pages big, and a blue pen and started writing endlessly. First it was a love story, then a mystery, then a ghost story and then… nothing. My pen grew silent because life got in the way but after the start was made, all I could think of was writing. It became a wonderful creative obsession that when I hit 30, it took form again.
Yes, I wasn't a writing prodigy, I didn't show my work to people when I was in my teenage years… it took me a while to get my thoughts in order and it was only after I discovered the platform named Wattpad that I decided to share my work. Was it good? Probably not. Was it loved? Yes, very much so. My first novel is called "Unmapped" and it was so successful and loved that I ended up publishing it on Amazon. In English which is not my mother language as you have guessed. That wandering romance saved my life to be honest and is still my first love. It flunked horribly and hardly sold 20 copies in English so I had to take action. Because I believed in it so much, I translated it into Greek and got my first publishing deal because of it.
It was been a hell of a ride ever since. Let me tell you something, especially to all the aspiring authors out there… it is not easy! It is not easy getting rejected all the time but there will be a time that someone will believe in you and change your whole life. That is worth the wait, the sleepless nights writing or thinking of your next book or even obsessing over fictional characters you created. You won't succeed at first, chances are that your first published novel will fail or won't get as much recognition as you'd have wished for. But that's okay because your next one will be a huge success. It will happen eventually and then all the self-doubts and tears will be washed away. You won't get rich by selling books… well at least that's what happens in Greece because here our book deals are in favor of the publisher and the author gets almost nothing. The promotion most of the time sucks. Readers don't give new authors a chance very easily. You will get frustrated and you will wonder why do you even bother doing this. The reviews will mostly be ruthless and will make you want to cry. You will want to quit eventually and you will get close to doing it…
But you have to think well the reasons why you write. Do you do it for instant fame and money? If so, than maybe you should consider doing something else (unless of course you live in the USA where big things can actually happen). The bitter truth, at least as far as my country is concerned, is that you won't get to see your book becoming a best seller, you won't earn a fortune, you won't see it becoming a TV series or a movie unless you are already a famous author, and to become one, you must work really hard.
But if you love writing as much as I do, if you live and breath for it, then nothing else really matters than getting creative and sharing that passion with a few people that WILL embrace you and your work. And trust me, it will feel like you have won the lottery. Because knowing that even only ten people follow you and love what you're doing, gives it meaning and becomes your fuel.
Start writing or continue doing it, FOR YOU firstly and then for everything else. Because opening your heart and putting everything on paper(or into word) is not an easy thing but it's worth it.